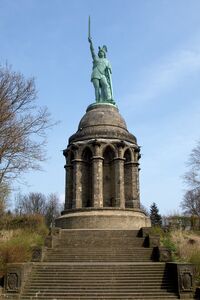 GermanicWiki
is a wiki about ancient Germanic languages, literature, religion and mythology, from the Allemanni to the Zumi, from the Corded Ware culture to the medieval Norse and everything in between! We aim to provide as complete as possible a repository of information on the culture of the Germanic peoples, from their emergence in the early 2nd millennium BCE to the early medieval period.
This is an exceedingly new Wiki, so content is a bit sparse at the moment, but we're working on getting content added quickly. If you're new here, please take a minute to read about the project; otherwise please feel free to start reading!
If you have any expertise (or even just interest!) we could certainly use some help writing articles; we have a brief list of articles that need writing available for your perusal.

Like us on our Facebook page!
Latest activity
Edit